Jacquelyn D. McAnelly is the recipient of the Houston Bar Association's President's Award for Outstanding Service as Co-Chair of the Gender Fairness Committee for 2018-2019.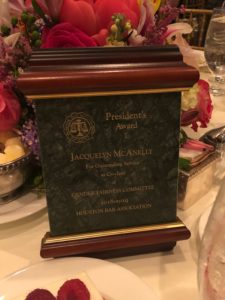 The Gender Fairness Committee examines issues related to gender fairness in the legal profession and develops programs that provide a forum for the discussion of issues related to gender fairness, including seminars and networking opportunities. The committee promotes awareness of these issues within the profession and encourages law firms and corporate legal departments to sign the "Gender Initiative Commitment Statement."
The Committee presented 5 events for the 2018-2019 Bar year. In November 2018, the committee presented a panel speaking on "Men as Mentors: the Importance of Sponsorship." In March, the Committee co- sponsored "An Afternoon with Harris County District Attorney Kim Ogg." In April 2019, the Committee hosted Linda Addison who discussed her "12 Principles for Life and Law Practice." On May 2, 2019, the Gender Fairness Committee hosted its last event, a judicial panel with Justice Eva Guzman, Judge Lee Rosenthal, Judge Belinda Hill  and Judge Sylvia Matthews on "Balancing the Scales: A Discussion about Gender Parity on the Bench." Jacquelyn received the award at the Houston Bar Association's Annual Dinner on May 16, 2019.